Hello Atlantic Ocean!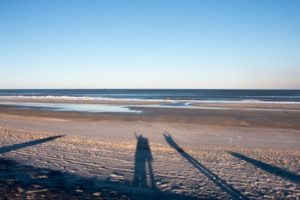 We've made it all the way to the East Coast! We stayed at Kathryn Abbey Hanna Park just outside of Jacksonville in Mayport. We were there for a week. What a beautiful park! The sites are very private with lush plant growth all around. On one side of the park you find a quiet fishing lake on the other the Atlantic Ocean.
On my day off we drove over to West Jacksonville and took a 20 mile bike ride on the Jacksonville-Baldwin Railroad Trail. A perfectly flat RR trail under a wooded canopy.
A nice ride, but fairly unexciting. After we went into Jacksonville and had lunch at a taqueria on the river front, grabbed some margaritas to go and walked across the bridge to go see the Friendship Fountain. 
Valentine's Day
We decided for Valentine's Day to give ourselves a treat and stay in a hotel, Ocean One, right on the beach. We needed a little break from the trailer, some room and a KING size bed! We took Pip on a walk on a very cold and windy beach.
Got to check out some kite surfers. Caleb would really like to try that.
Since it was so cold, we went back to the hotel, dropped Pippin off and decided to grab some lunch at Poe's Tavern. Very nice Valentine's Day. 
President's Day
It's President's Day, so I have the day off! Lucky me! As an extension to Valentine's Day – and because the spa was booked the day before – we went for a couples massage on this day. And then sadly, we had to leave our large room and large bed and make our way back to our tin can in the forest. Not so bad.