So here we are in the Outer Banks of North Carolina at a little place called Refuge on Roanoke Island. It is located in the fishing Village of Wanchese. Not a bad view to wake up to.
Friday night we drove to Duck to stroll on the boardwalk. It ended up being a very nice evening with a light rain. We had an amazing Manhattan and dinner at Blue Point, which is at the end of the boardwalk. On the way back I got some pretty cool night shots.
On Saturday we drove to Cape Hatteras to see the lighthouse there. We were headed to Ocracoke Island to see the lighthouse there but the Ferry would have taken all day. So we had to settle on seeing only two lighthouses for the day.
We also had time for a burger and a walk on the beach.
Sunday took us North past Duck to Corolla, where we did a Wild Horse Adventure Tour to seek and find the Banker horse. The Banker horse is a breed of feral horse living on the barrier islands in North Carolina's Outer Banks. It is a small, hardy, and a docile animal. Descended from domesticated Spanish horses and possibly brought to the Americas in the 16th century, the ancestral foundation bloodstock may have become feral after surviving shipwrecks or being abandoned on the islands by one of the exploratory expeditions (wikipedia).

Yes, it's cold, a north wind today.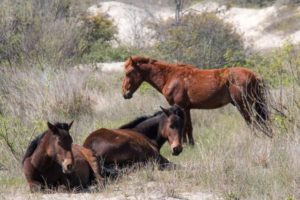 And a day on the Outer Banks would not be complete without another lighthouse.
Caleb took a trip to the Wright Brothers National Memorial without me. Located in Kill Devil Hills, NC on the Outer Banks, commemorates the first successful, sustained, powered flights in a heavier-than-air machine (wikipedia).
Goodbye Outer Banks