Our Nation's Capitol, Washington DC. This really is an amazing city. You can't help feeling a sense of pride when you visit. Yes, we are angry at our government, but it's our government. Yes, we want changes, but it's a system that still works even at it's worst. Yes, it's dysfunctional but it's our dysfunctional family.
I was only here for an evening, as I had to fly to Portland for an All Hands Red Giant Company meeting the following day. So I had to make the best of my less then 24 hours so we took a night tour of the monuments. It was an evening with light rain, the bus was late arriving but the tour was amazing! Our guide Chris was a young blake man maybe in his late twenties. I mention the fact that he was black only because he did not look like a tour guide. He looked like a rapper or a street performer. I kept waiting for him to break out into song or show us some dance moves. He was funny, knowledgeable and enthusiastic, but his day job just might be performing or he might be a student of the arts. Who knows?
Some highlights of our night around town include:

The Capitol at dusk
I don't remember the name of this statue but I loved the picture I took.
There is always a protest going on of some sort.
The Washington Monument
World War II Memorial
Theodore Roosevelt Memorial
Jefferson Memorial
Martin Luther King Jr Memorial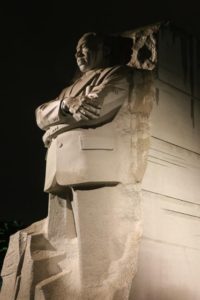 Korean War Memorial
Lincoln Memorial
And the Vietnam War Memorial
The night was ended with a drive past the Hiroshima War Memorial
Caleb spent the next several days sightseeing on his own before heading to Pennsylvania. But this is his story to tell.