Travel Day
We packed up everything and headed toward Orlando again. We pulled back into the Orange Grove RV Park where we had been before and ended up in the same space 166. It started to pour on us as we got there, which was ironic since it was pouring when we left. My cousin Tom and his family live outside Orlando on the East side. So on our first night back we went to their house for dinner. Tom barbecued us some steaks and mushrooms along with some potatoes and asparagus while I did our laundry. 
Runaway Country Music Festival
The next day we had plans to go to the Runaway Country Music Festival with Tom and Vickie to see Eric Church. Vickie seemed very happy to be getting out and doing something fun. Our day began with my cousin and I riding ice chest go carts.
We started out watching Neal McCoy for a while. He was an older artist with good energy. We then wandered over to another stage and saw Mo Pitney who was really young and skinny and had a very low voice. He was really good too. His sister and brother were part of his band. The main show which was Eric Church. We had nice seats out in the grass, but the sound was really awful. The mix was very heavy on the base and drums and Eric was sometimes a bit hard to hear. There were guys playing mandolin and banjo, but we could never hear them. They were all having a great time so it was still a lot of fun. Overall a great day!
Epcot Center
We got up early and dropped Pippin off at Best Friends Pet Center at Disney, then got to Epcot shortly after it opened. We got a fast pass for Nemo and Friends, Spaceship Earth and Mission: Space, but they were later in the day. So we started with Test Track, which was kind of hokey, but pretty cool once the cars zoomed outside. Then we went over and watched Ellen's Energy Adventure. Ellen was pretty funny, and the moving theatre seats were pretty cool, but overall, it seemed a bit disjointed. Then we went to Living with the Land, which was kind of neat and saw the butterfly encounter. Since it was getting closer to lunch we headed over to the lake to the World Showcase. We took in a 360 movie on Canada and looked around, then headed over for lunch at Teppan Edo. We had a nice lunch with folks from FL. We caught An American Adventure with Mark Twain and Ben Franklin. Animatronics at its best. We blew off Nemo to see these things because we didn't want to walk all the way across the park. We made our way around the World Showcase and then went on the Spaceship Earth ride. This was a slow moving show through the Epcot Center golfball showing the evolution of man over time. It was really well done. At the end, we were asked some questions about how our future would look, and it did a really cute animation with our photos placed on the animated figures. Then we went to Mission: Space and it was very intense. We picked the more aggressive "orange" ride and I didn't like the movement nor the claustrophobic nature of the ride. I didn't barf, but I sure didn't feel good the rest of the night. The fireworks were great.
Back at our trailer, a Storm is coming…
Easter Weekend
I cooked most of the day on Saturday. I made a big batch of potato salad and we got a Honey Baked Ham. Then I came up with a great idea. Let's go see the Astros play the Braves in Kissimmee. Even though it is supposed to start raining at 8:00. What else did we have to do? So, we headed on over to the ballpark to buy some scalped tickets. Parking was $10 and then we ended up finding a scalper who sold us some tickets to seats we never actually sat down in at $30/each. As we entered the Osceola County Stadium we learned two things. The first was that it was the last ever Astros game in the park. The Astros are moving, so we were there for closing night. 
The other was that the game was being postponed for about a half hour because they expected 15 minutes of rain to pass through. Caleb had forgotten his hat, so he bought a really funky Astros hat for $10. The tarp was on the field, so we went for cocktails and waited for the storm to pass under the roofline in our section. Within a few minutes the rain started pouring down with lightning and thunder. The rains started blowing in, so I set up my umbrella directly in front of me to keep us from getting wet.
We saw the biggest closest bolt of lightning we have ever seen! It was out over the parking lot and looked like a solid mass when it came down. When it faded away, there were bright chunks of light left hanging in the air where the bolt had been. The rain started to slow down, so Caleb went out to the car to get our sweatshirts. The parking lot was a swamp, and by the time he got back, they had now postponed the game until 8:00 pm.
The game was officially called off around 7:45, but they were still going to have fireworks at 8:00 pm. We had some average brats, drank a couple drinks, watched the grounds crew slip and slide on the tarp, and saw a very nice fireworks show. We thought we would try to get a refund for our tickets, but no go. We waited about a half hour in the rain only to be told we would need to get a refund from the guy who sold us the tickets. Overall it was a very unusual and disappointing evening, but a night we most likely will never forget!
Easter
We got up on Sunday and started making deviled eggs. Unfortunately, Caleb had gotten some organic eggs which were pretty fresh, so they were a bitch to peel. Eventually we got them done. Our plan for the day was to go watch my cousin's daughter, Kaity, skate at a meet and then have Easter dinner at our trailer. We went with Tom in the afternoon to watch Kaity skate. She is very pretty, very talented and skates well, but this day she had a pretty serious pain in her ankle. I thought she still skated very well, but she was disappointed in her performance. She is working towards skating at Nationals next year. She is only 14!
Kaity was not interested inEaster dinner.
She was tired having been up since 5:00 am. All in all, she got a gold, a silver and a bronze.
Kennedy Space Center
We had to be up about 6:00 am because we were going to Kennedy Space Center with Tom. He was taking the day off to go with us. We dropped Pippin off at the Disney Pet Care center and then headed to Titusville. We hopped in Tom's car and headed off to the KSC. We started out the day looking at all the rockets in the rocket garden.
Then we headed over to an exhibit which was all about trying to get kids to go into the space program and go to Mars. Next we headed over to the new Atlantis Space Shuttle exhibit. The entrance is between the two solid boosters and the primary tank that Tom helped build. The exhibit was very well done, starting out with a history of the program and ending up with us entering into the primary exhibit.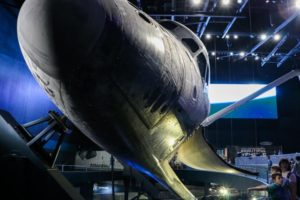 The shuttle hangs from the ceiling with the cargo doors open and it is at an angle. They give you lots of space to view it, from high up and also down below. The size of it is immense, and it very exciting to be able to get so close and see the craftsmanship. You can see the pitting of the ceramic tiles and the main entrance port into the shuttle is quite dirty from people going in and out of it. I knew my cousin had worked on the Shuttle but I had no idea to what extent. He was new to the program, the year 2003. He knew the crew of the Columbia personally. 
The Space Shuttle Columbia was the first space-rated orbiter. It launched for the first time on April 12, 1981, the first flight of the Space Shuttle program. Over 22 years of service it completed 27 missions before disintegrating during re-entry on its 28th mission, on February 1, 2003, resulting in the deaths of all seven crew members. (wikipedia)
His newest project is the SLS (Space Launch System) that will carry the Orion Multi-Purpose Crew Vehicle to deep space and eventually Mars. You have to catch a bus out to the launch areas. There you can see the VAB (Vehicle Assembly Building), and the new support gantry that they are building for the SLS. We saw two of the giant platforms that take the rockets out of the VAB out to the launch pad, as well as the launch pad itself. Then we went to the Saturn V exhibit where they have a Saturn V rocket on its side. All very cool!
I bought Caleb a NASA hat commemorating the year Nasa came into existence: 1958, which is also Caleb's birth year. We caught the bus back and went to the gift store because Bob Stringer was going to be signing autographs. Caleb had him sign his hat. It was nice to shake his hand as he is a very accomplished pilot and astronaut (2 shuttle missions). Then we caught the IMAX 3-D show and then went out to the Astronaut Memorial.
We left the KSC and headed over to Dixie Crossroads restaurant where we met Vickie and Kaity for dinner. Most of us had rock shrimp which were very good – sort of like a mild lobster tail in bite-size pieces. It was a great day.
Our Last Day in Orlando
Caleb got up early because he was going fishing with Tom at Lake Toho. Tom picked him up about 6:30 am. It was an overcast day, and it took a while for the sun to come out. They fished until about 2:00 p.m. mostly using sped worms, swimming bait and the like. They fished in grass, over water lilies and in tules. Caleb got his hook snagged at least 13 times including throwing one over a boat dock. Tom never once. The story is that Tom nearly caught a bass that looked to be about 10 pounds.
I took off for Tom's house around 9:00 in the morning. I worked there and did a ton of laundry. After the guys got home we had a very nice dinner and ate chocolate filled strawberries for desert and talked with Kaity. We actually got to see Kevan long enough to get a family picture with him.
Having said our goodbyes, off we went. Thank you guys for a wonderful time!